Subscription Box - Seasonal Plan (Billed 4x Year)
$110.00 $160.00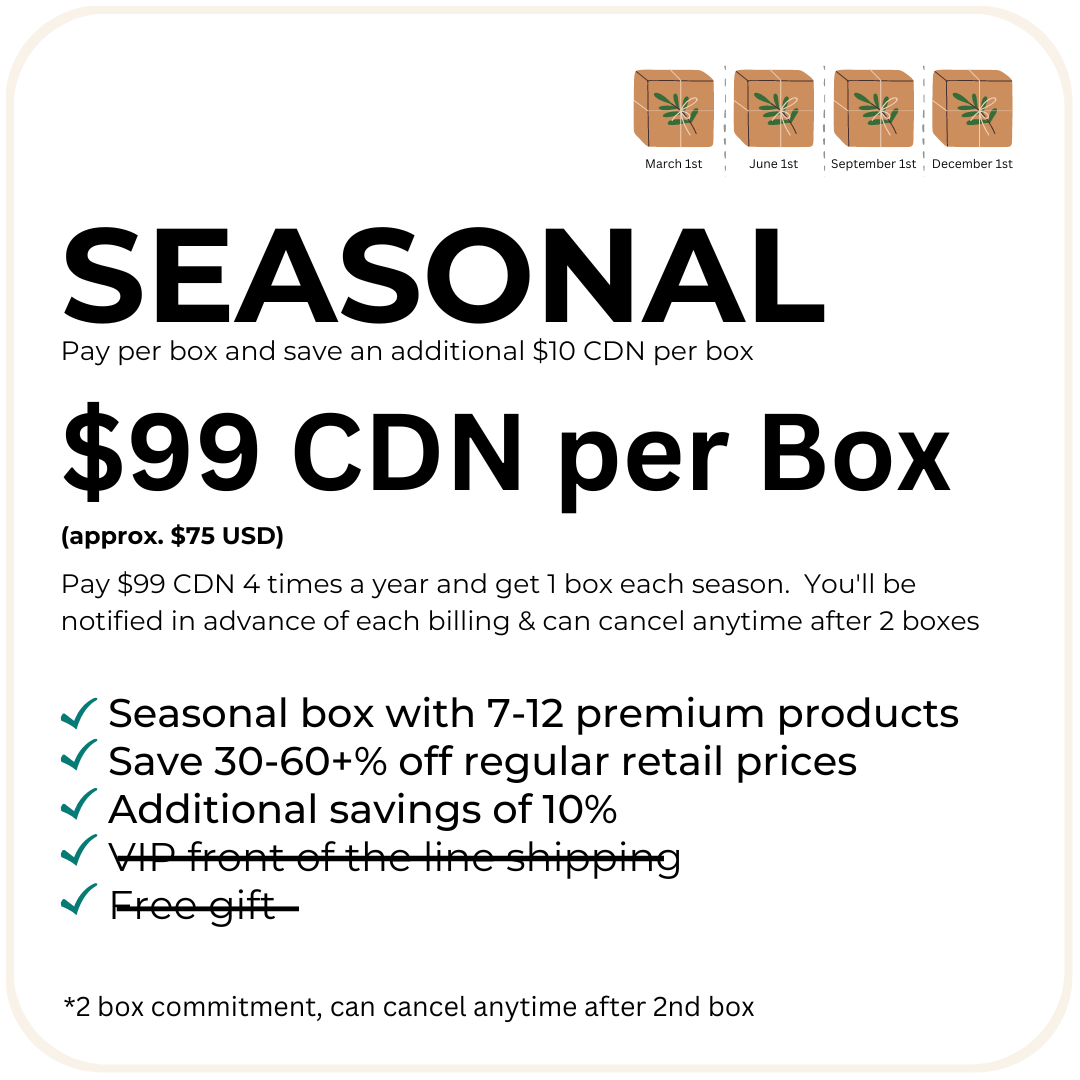 Now shipping the Fall Box!! Sign up for our newsletter for the full reveal coming soon.  🍂🌿📦   
The Fall Eco-Box features 7 eco-awesome items from small businesses and has an outstanding $150 dollar value (annual subscribers save 40% off regular retail prices).  Starts shipping September 1st with all out in the first two weeks of September.  Supplies are limited, so hurry before we sell out.
Purchase a single box (choose "one-time purchase" or sign up for our seasonal subscription and save 10% (seasonal subscription requires a 2-box minimum).  

When you sign up for the seasonal plan, boxes are billed one box at a time, and automatically renew until you choose to stop.  Billing dates are the 1st of March, June, September and December and you will get a billing reminder 1 week prior.  Boxes ship out within the two weeks.  With each box, you will get a shipping confirmation with a tracking number.
All prices are in Canadian dollars. Flat-rate shipping/boxing fee of $10 to Canada and $15 to USA per box.  Approximate dollar conversion, $99 CDN = $74 USD, $15 CDN = $11 USD. Some exceptions to extremely rural locations apply. Click here for details.
Sign up for our newsletter and follow us on social media (Instagram or Facebook) for spoilers, eco-tips, sales notices and to get the full reveal.
Curious about what we typically feature?  Check out our past boxes here.    
Want to gift the box?  Check our FAQs for tips and instructions when checking out. If you'd like us to include a note, write exactly what you'd like written "special instructions" section when you check out.  Each box includes an insert introducing the items and businesses and their retail value.  The price you paid for the box is not included.
Any questions?  Message us at hello@letsgoeco.com